A recent East Carolina University poll shows that the upcoming 2024 U.S. Senate election in Ohio could be one of the most competitive in the nation. According to the results of the ECU Poll, Democratic incumbent Sherrod Brown holds a narrow lead against three potential Republican challengers. In a hypothetical matchup between Brown and State Senator Matt Dolan, Brown leads 45% to 44%, with the remaining either undecided or indicating support for some other candidate. Brown also holds a slim lead over Ohio Secretary of State Frank LaRose, 44% to 42%, and against businessman Bernie Moreno, 46% to 42%.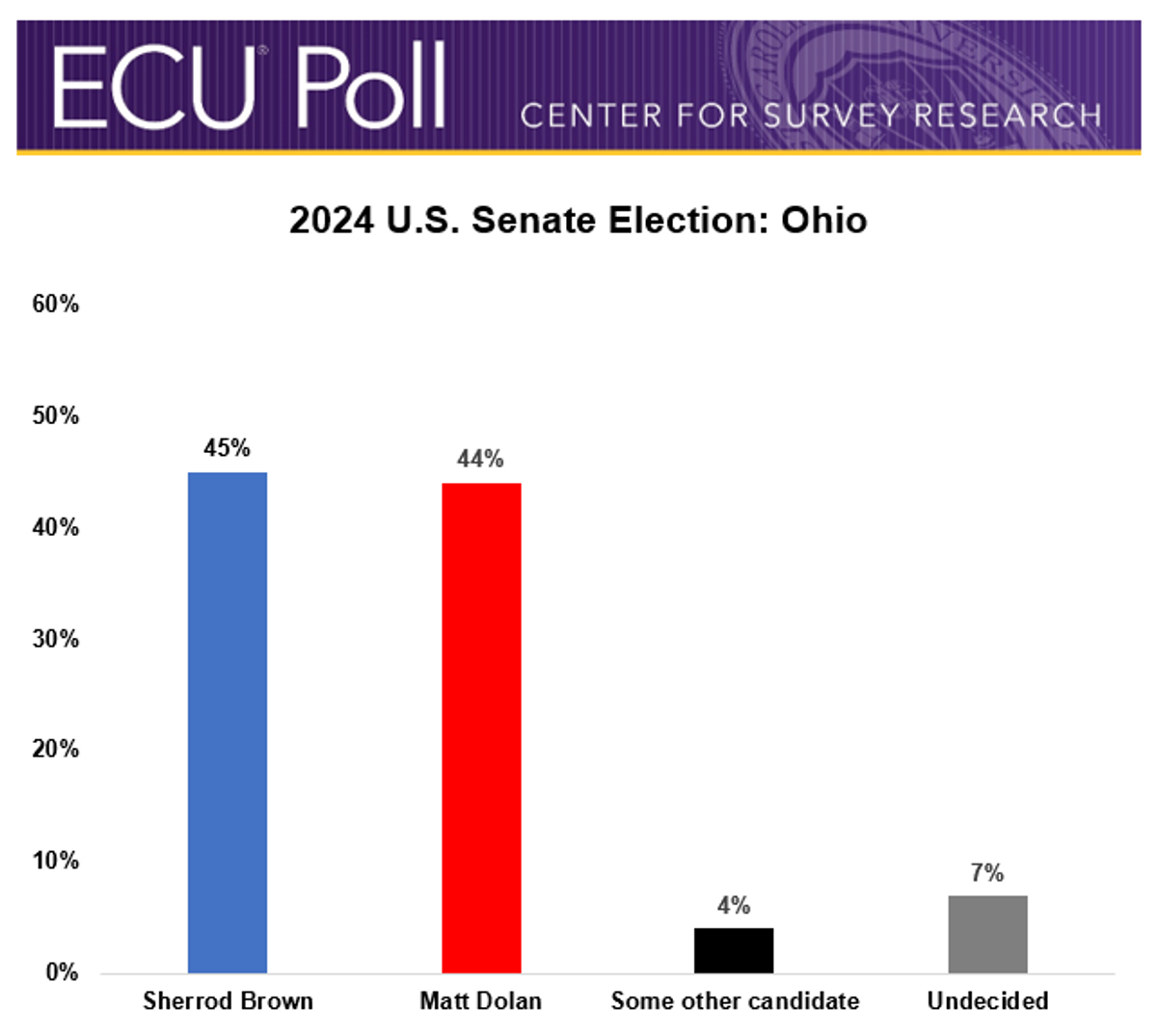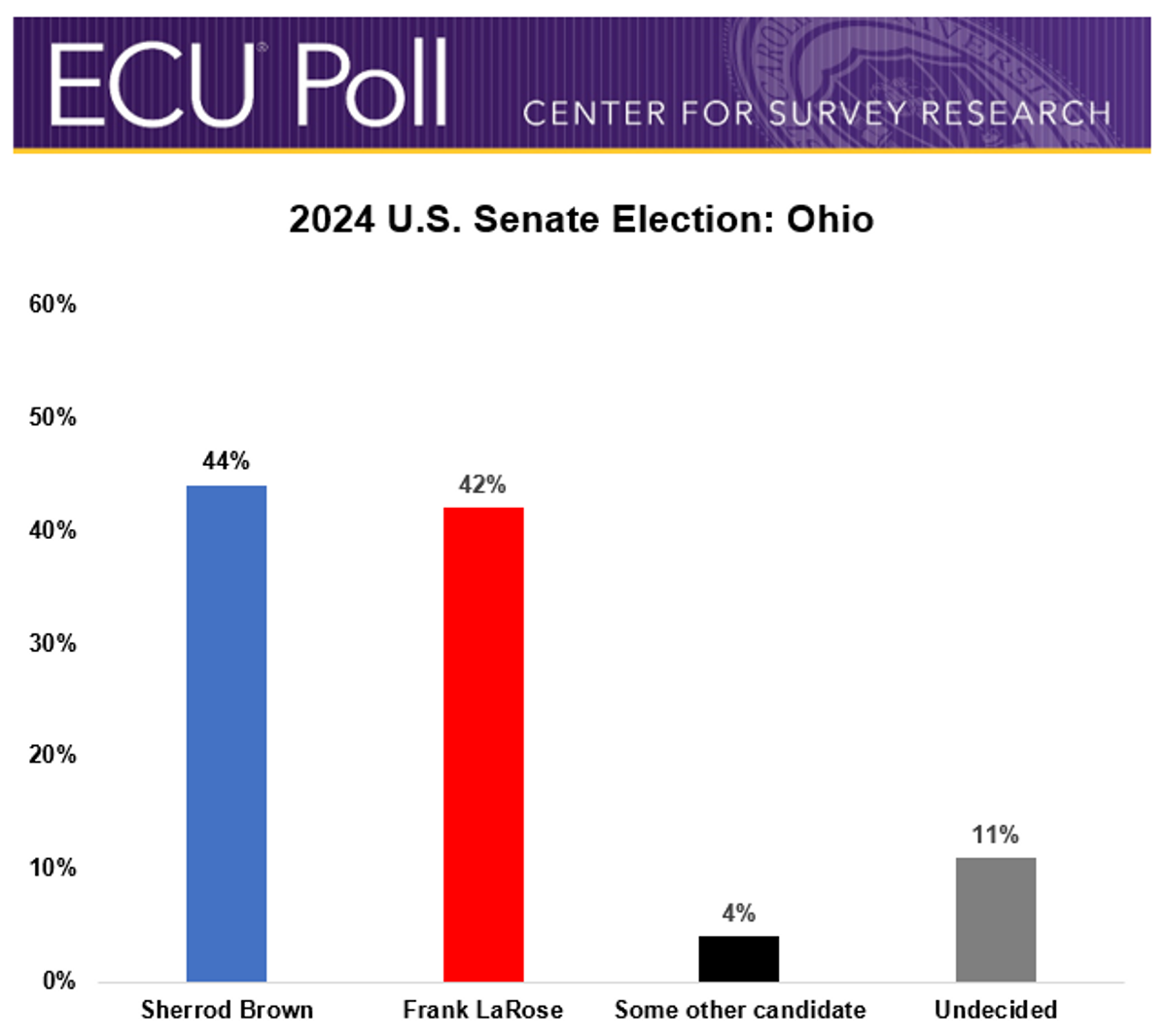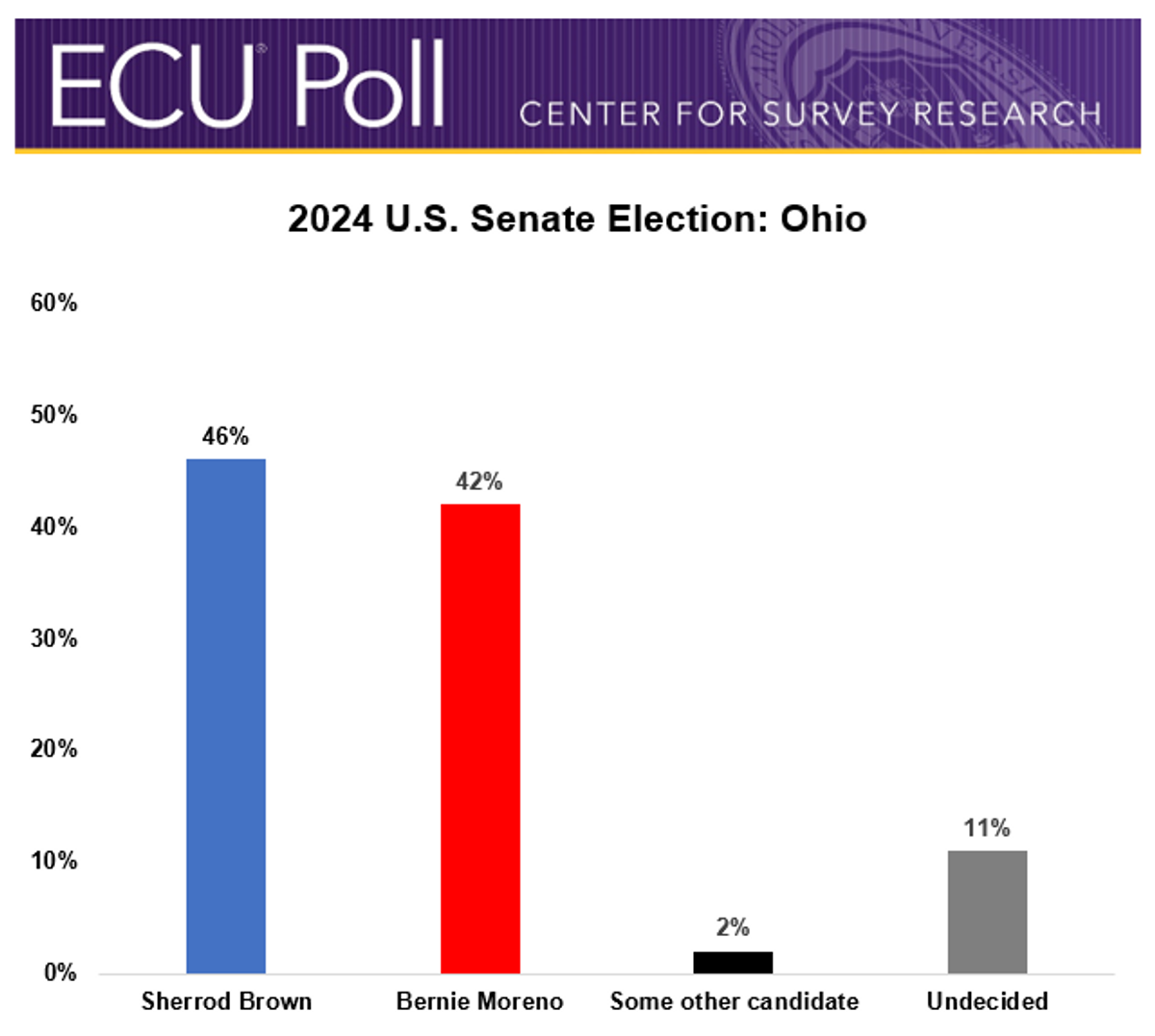 In his most competitive matchup against Dolan, Brown performs best among traditional Democratic Party blocs. Brown leads Dolan among those with an advanced or post-graduate degree (65% to 33%); African American voters (81% to 7%); women (50% to 36%); and self-identified Democrats (91% to 2%). Brown also leads among self-identified independents (48% to 36%). In comparison, Dolan leads Brown among voters with a high school education or less (47% to 35%); white voters (50% to 39%); men (53% to 39%); and Republicans (85% to 5%).
When the poll asked Republican primary voters to indicate which of the Republican Senate candidates that they supported to challenge Senator Brown, a majority of the respondents answered that they are currently undecided (58%). The Trump-backed Frank LaRose has a slight lead over Matt Dolan, 17% to 14%, with Bernie Moreno placing third in the poll at 7%, and the remaining indicating support for some other Republican candidate.
In a hypothetical Republican presidential primary in Ohio among several declared candidates, former President Donald Trump holds a commanding lead over Florida Governor Ron DeSantis, 59% to 15%. The field rounds out with former Vice President Mike Pence at 5%, Chris Christie at 4%, Vivek Ramaswamy at 3%, Nikki Haley at 2%, and Asa Hutchinson at 1%. Ten percent of Republicans are undecided, and 2% support some other candidate.
The poll's results also show that President Joe Biden holds only a 42% job approval rating in Ohio, with 53% disapproving. This is very similar to the current national approval rating for Biden (43% approval and 54% disapproval; see here).
According to Jonathan Morris, Senior Polling Scientist for the Center for Survey Research, "Although Ohio has shifted much more in favor of Republicans over the last decade, Sherrod Brown still has enough state-wide appeal to make this a very close general election. We suspect all eyes will be on this contest as it very well could determine control of the United States Senate in November 2024."
Methodology
This poll was conducted June 21-24, 2023. The sample consisted of 805 registered voters in Ohio. The poll's Credibility Interval (CI), similar to a poll's margin of error, was +/- 4 percentage points. The data for the poll were drawn from an Interactive Voice Response (IVR) system of landlines only (n=402) and an online panel provided by Lucid, a Cint group company (N=403). For additional information about Lucid and the quality of its online panel, see https://luc.id/quality. To ensure the sample was representative of registered voters in Ohio, the data were weighted by gender, age, education, race, mode, and election modeling based on previous statewide elections.