The latest ECU Poll of the U.S. Senate election in North Carolina, conducted November 1-3, shows Republican Ted Budd leading Democrat Cheri Beasley, 52% to 46%, among likely voters, with just 1% of the poll respondents reporting they are undecided (and the remaining 1% expressing support for some other candidate).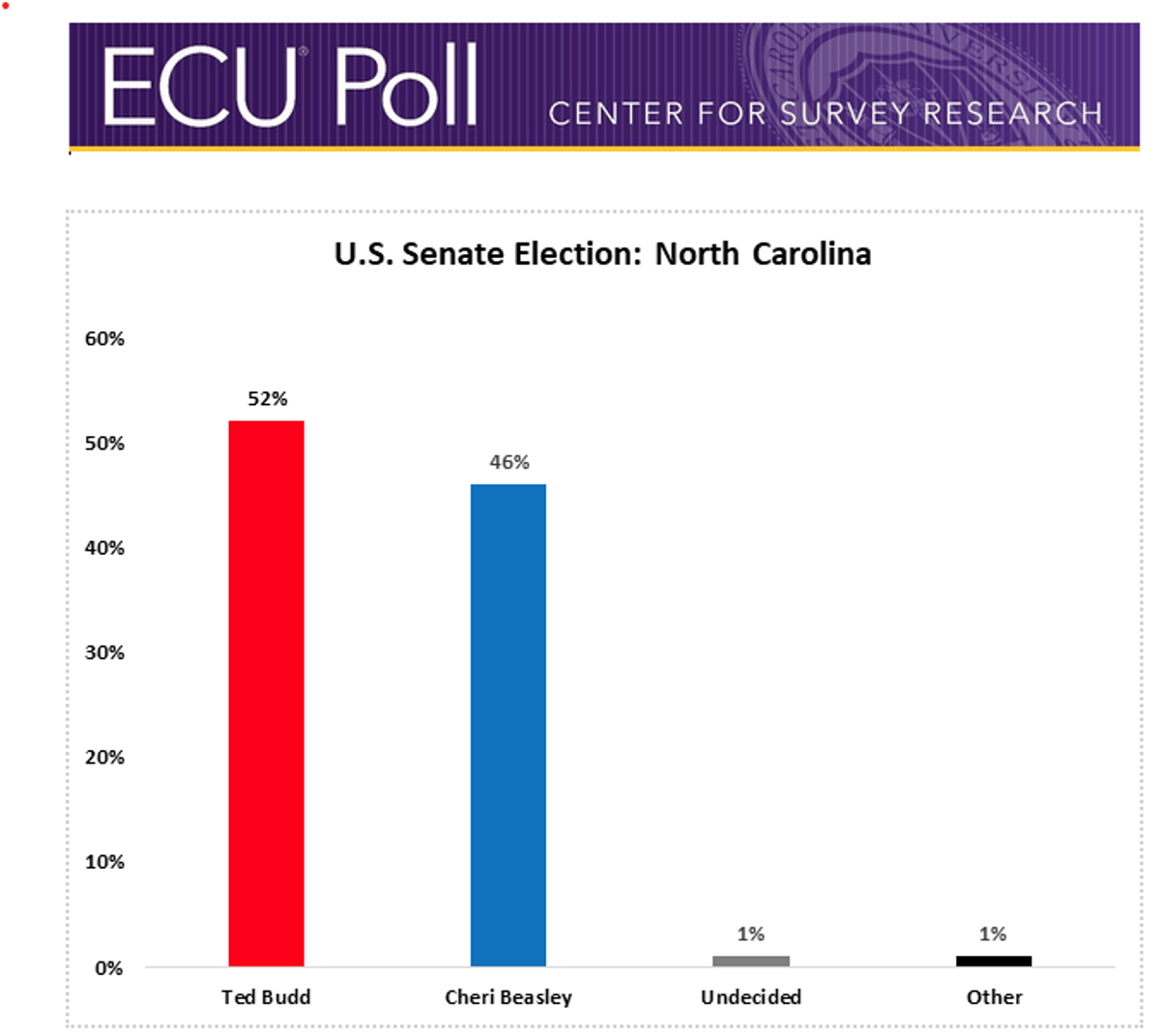 The results of the poll reveal some significant divisions within the electorate. Budd draws strong support from working-class white voters (defined as those without a 4-year college degree). Among that segment of the electorate, Budd holds a commanding 51 percentage advantage (74% to 23%) over Beasley. Budd holds a smaller, but significant lead over Beasley, 54% to 44%, among white voters with a four-year college degree or higher. Among likely African American voters, Beasley holds an 8 to 1 advantage (87% to 11%) over Budd.
There are also divisions based on age. Among likely senior voters (who are 65 years old and over), Budd holds a 56% to 42% advantage. Beasley, however, leads 53% to 43% among voters under the age of 40. For those between the ages of 40 and 64, Budd tops Beasley, 54% to 45%.
When asked what the most important issue was in determining their vote in the NC Senate election, 39% of likely voters said the economy, 18% said abortion, and 15% mentioned inflation. Other issues, like the January 6th investigation (7%), border security (4%), crime (3%), and gun policy (3%), lagged far behind.
Among those who referenced the economy as the most important issue in determining their Senate vote, 76% said they are voting for Ted Budd, and only 23% are voting for Cheri Beasley. Likewise, among those that mentioned inflation as the most important issue, 71% are Budd voters and 25% are Beasley voters. However, among those who reference abortion, 85% are voting for Beasley, and only 14% are voting Budd.
Regionally, Budd's advantage over Beasley is strongest in the western part of the state (64% to 34%) and in the eastern part of the state (59% to 39%). Budd leads in the Piedmont/Central region (57% to 41%), while Beasley holds a lead in the Raleigh/Durham area (62% to 35%) as well as the Charlotte area (53% to 44%).
In addition to the Senate race, respondents were asked how they plan to vote in their U.S. congressional district races. The poll's results show that 51% of likely voters say they intend to vote for the Republican candidate while 46% say they will vote for the Democratic candidate. The 5-point Republican advantage in North Carolina is higher than the national average, which currently shows a 3-point Republican advantage.
The improved electoral environment for Republicans in North Carolina since September also tracks with declines in job approval ratings statewide for President Joe Biden. Among likely voters in North Carolina, President Biden's job approval stands at 40%, down from early September when Biden's approval stood at 44%.
In assessing the full results of the poll, Dr. Peter Francia, Director of the ECU Center for Survey Research, remarked, "Ted Budd's campaign, and the Republican Party as a whole, have succeeded in mobilizing support from likely voters around the issues of the economy and inflation, which works against the party that currently holds the White House. What we are seeing in North Carolina can be seen across the country: The Republicans are heading into the 2022 midterm elections with a significant advantage."
Methodology
This poll was conducted November 1-3, 2022. The sample consisted of 1,183 likely voters in North Carolina, with a Credibility Interval (CI), similar to a poll's margin of error, of +/- 3.3 percentage points. The data for the poll were drawn from a cellphone sample of SMS-to-web (N=544) provided by Consensus Strategies, an Interactive Voice Response (IVR) system of landlines only (n=443), and an online panel provided by Bovitz (N=196). To ensure the sample was representative of the midterm electorate, the data were weighted by gender, age, education, race, region, and election modeling based on previous statewide elections in North Carolina.