In a hypothetical 2024 U.S. Senate matchup in West Virginia, the latest ECU Poll shows Governor Jim Justice with a significant 22-point lead over incumbent Senator Joe Manchin, 54% to 32%, among registered voters in the state (with 13% undecided). The ECU Poll also finds Governor Justice with a job approval rating of 57% (with an overall net positive job approval rating of +28 percentage points; 57% approval compared to 29% disapproval). Senator Manchin, in contrast, holds a job approval rating of just 33% (with an overall net negative job approval rating of -26 percentage points; 33% approval compared to 59% disapproval).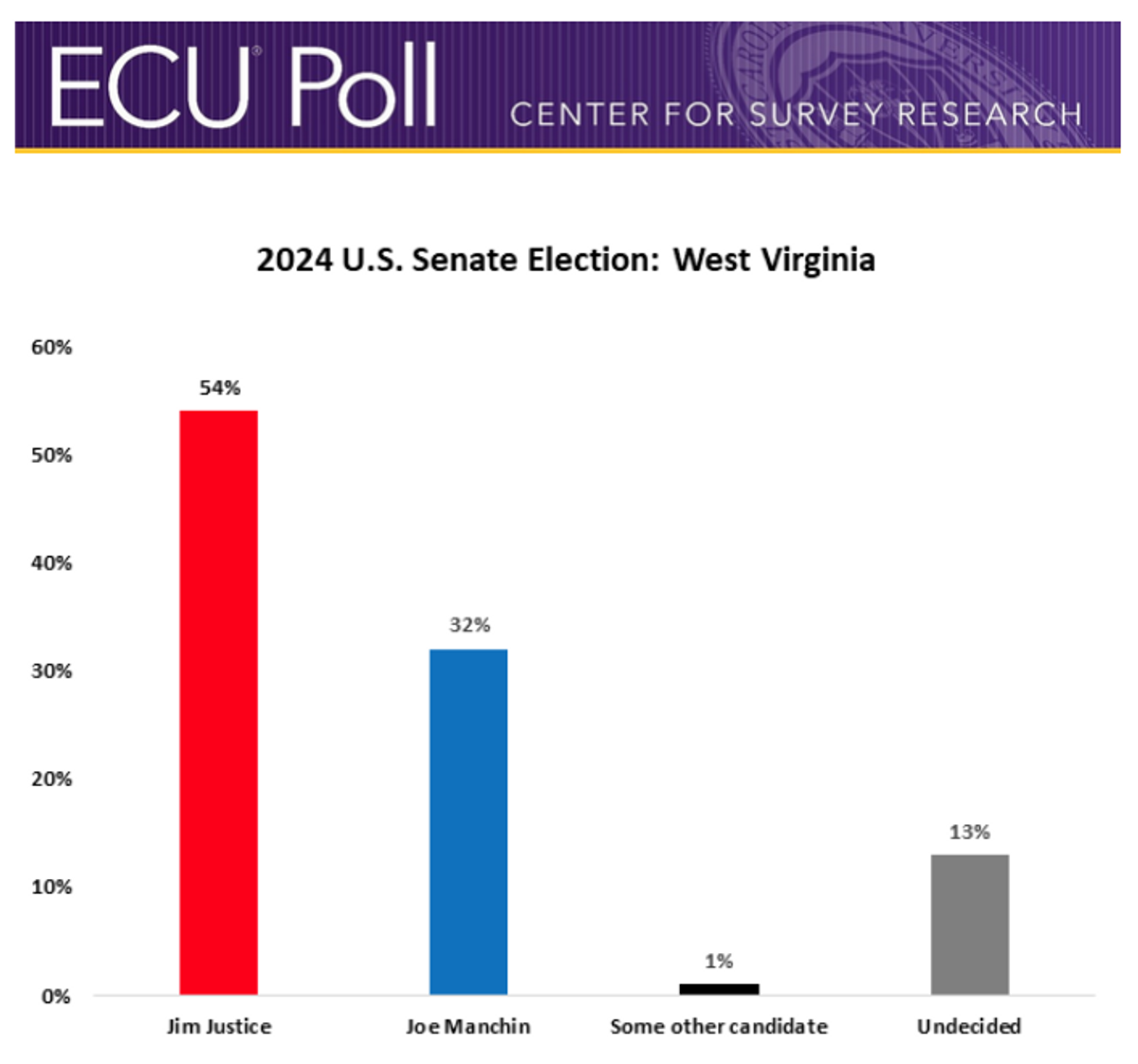 Deeper analysis of the approval numbers shows barely half (51%) of self-identified Democrats in West Virginia approve of Senator Manchin's job performance. The senator's approval drops to 37% among independents and to just 22% among Republicans. By comparison, Governor Justice has a 70% approval rating among Republicans, a 52% approval rating among independents, and a 39% approval rating among Democrats. Further complicating matters for Manchin, only 26% of West Virginians express approval of President Joe Biden's job performance compared to 68% disapproval.
When examining a second hypothetical matchup between Congressman Alex Mooney and Senator Manchin, the ECU Poll shows the race effectively deadlocked, with Mooney at 41% and Manchin at 40% (with 18% undecided).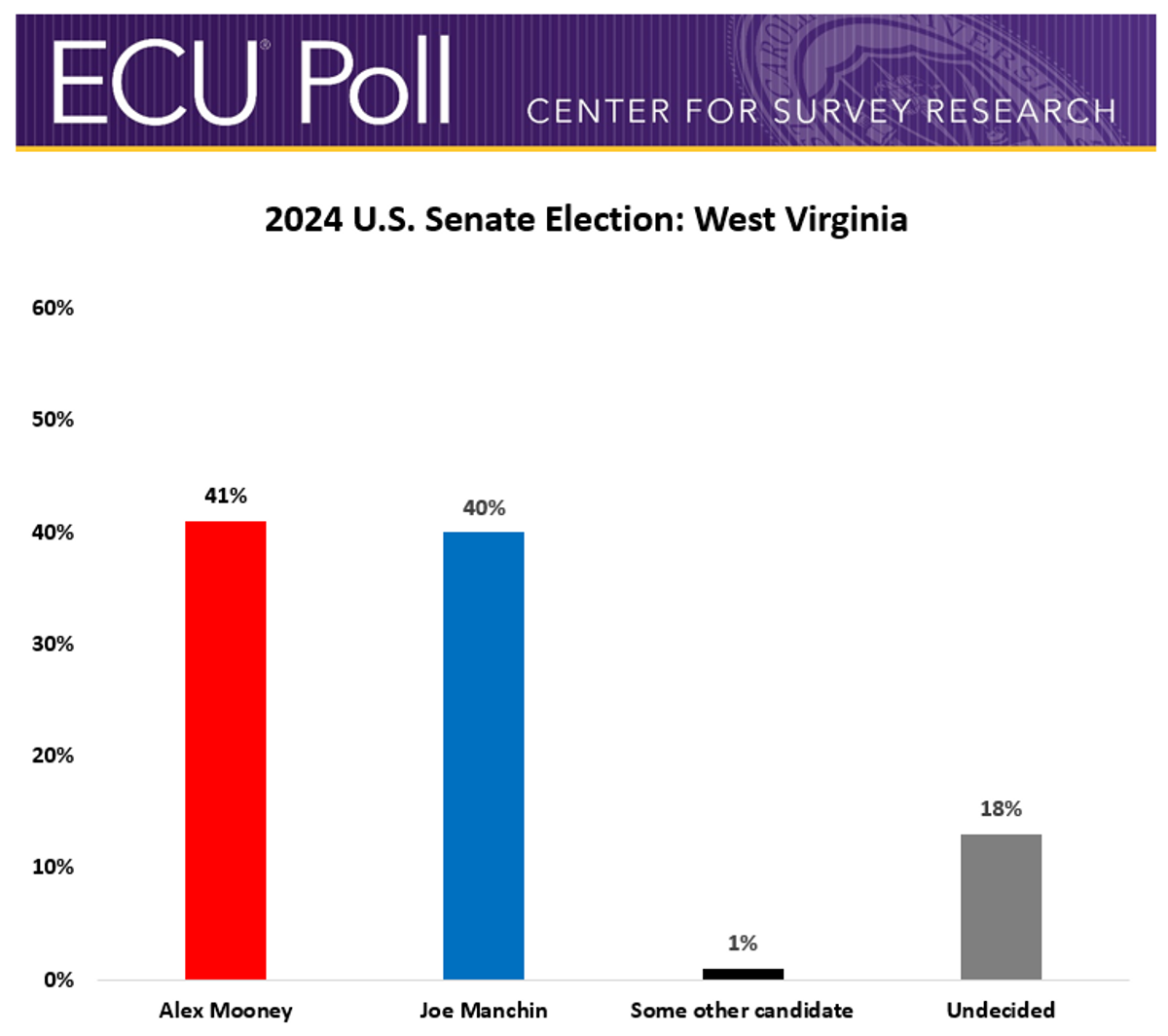 In a Republican primary matchup between Governor Justice and Congressman Mooney, Justice leads by a decisive 41 percentage points, 53% to 12%.
When asked if Senator Manchin should remain a Democrat or switch parties, voters in West Virginia were split on the matter, with 33% saying he should remain a Democrat and 33% saying he should switch to the Republican Party. Another 14% responded that Manchin should become an independent, with the remaining 21% not sure.
In a hypothetical 2024 Republican presidential primary in West Virginia among several declared and potential candidates, former President Donald Trump holds a commanding lead over Florida Governor Ron DeSantis, 54% to 9%. The field rounds out with former Vice President Mike Pence at 5%, Senator Tim Scott of South Carolina at 4%, former South Carolina Governor Nikki Haley at 3%, former Arkansas Governor Asa Hutchinson at 2%, and businessman and entrepreneur Vivek Ramaswamy at 2%. Approximately, 20% are undecided.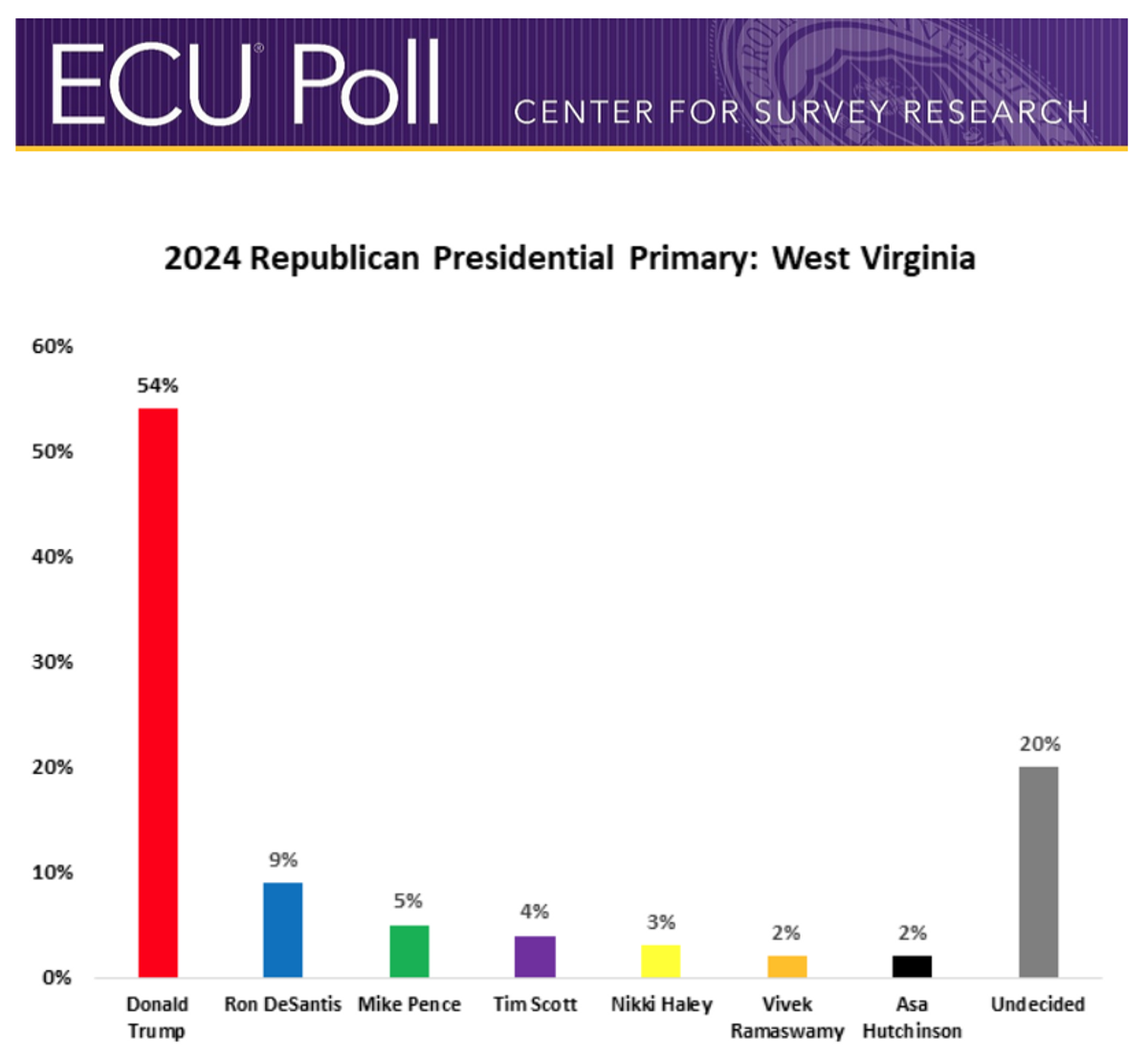 According to Dr. Peter Francia, Director of the ECU Center for Survey Research, "Although it is still early, Jim Justice is the clear favorite to win in West Virginia's 2024 U.S. Senate election. He is a popular Republican governor challenging an unpopular Democratic incumbent in a heavily Republican state. Likewise, our poll results make clear that Donald Trump would easily win the West Virginia Republican presidential primary if the election were held now."
Methodology
This poll was conducted over a two-day period from May 22 through May 23, 2023. The sample consisted of 957 registered voters in West Virginia. The poll's Credibility Interval (CI), similar to a poll's margin of error, was +/- 3.7 percentage points. The data for the poll were drawn from an Interactive Voice Response (IVR) system of landlines only (n=587) and an online panel provided by Cint (N=370). To ensure the sample was representative of registered voters in West Virginia, the data were weighted by gender, age, education, race, and election modeling based on previous statewide elections.