The latest ECU Poll of registered voters in North Carolina, conducted May 19-20, finds Republican nominee Ted Budd with an 8-point lead over Democratic nominee Cheri Beasley, 47% to 39% (with the remaining 12% of the poll respondents saying they are undecided and 2% expressing support for some other candidate). Budd currently holds a 12-point lead among male voters, 50% to 38%. Among women, Budd leads 44% to 40%.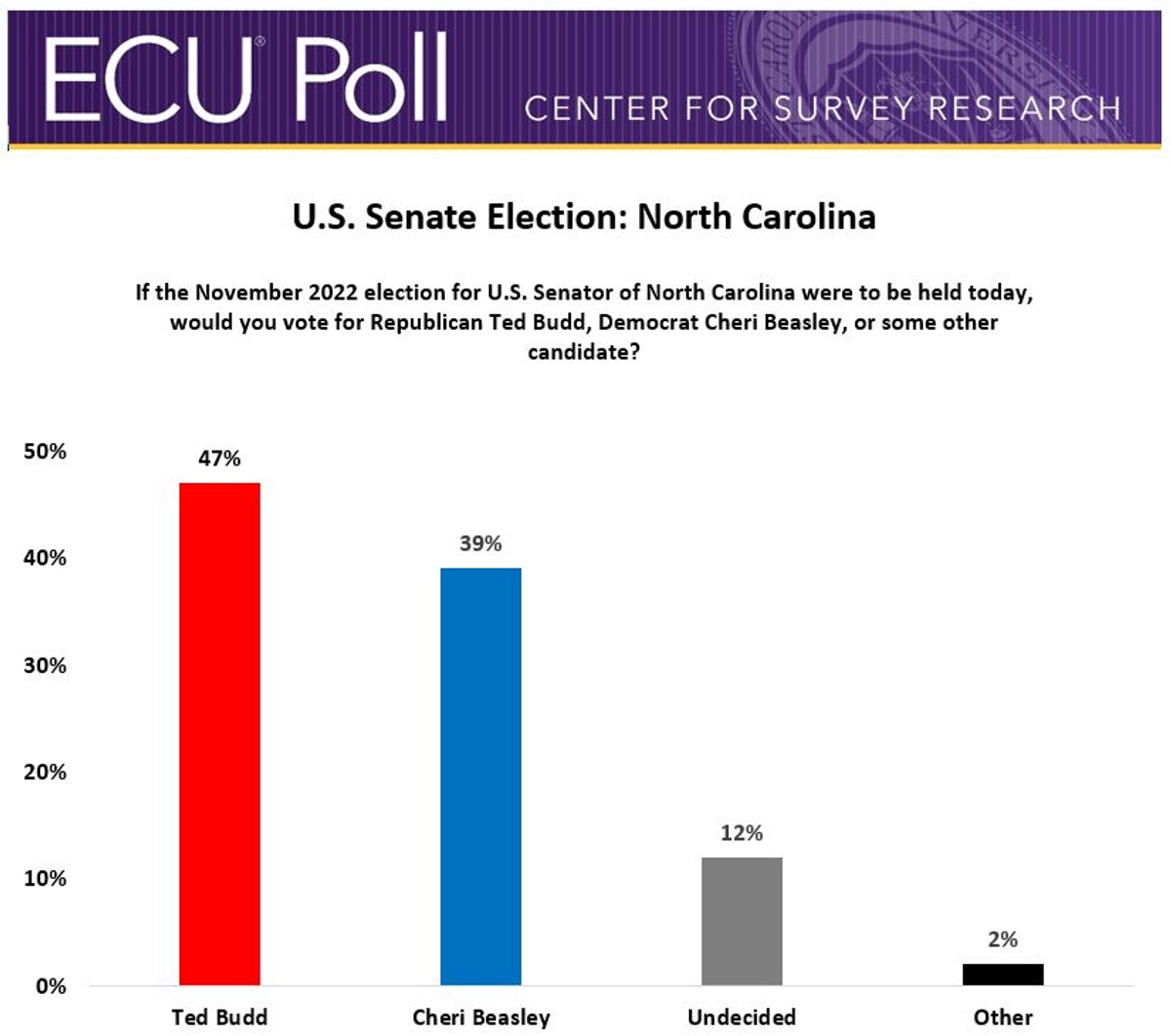 Among individuals without a 4-year college degree, Budd is ahead of Beasley 51% to 31%. However, among respondents with a 4-year college degree or higher, Beasley leads Budd 47% to 43%. Of the 12% of registered voters who are undecided, 68% do not have a college degree compared to 32% who do.
Budd's advantage over Beasley is strongest in Eastern N.C. (54% to 33%), the Piedmont (48% to 31%), and the Western portion of the state (54% to 37%). Beasley leads in the Raleigh/Durham area (49% to 39%) as well as Charlotte (43% to 40%).
Among registered voters 65 years old and over, Budd holds a significant lead, 61% to 26%. Among those 40 to 64 years old, Budd's advantage slips to 3 points (46% to 43%), and Beasley holds the lead with registered voters under 40 years old, 41% to 37%.
When asked how they plan to vote in their congressional district races, 47% of registered voters say they intend to vote for the Republican candidate and 44% say they will vote for the Democratic candidate. The current Republican advantage in North Carolina is similar to the national average and suggests favorable conditions for Republicans to retake control of the U.S. House.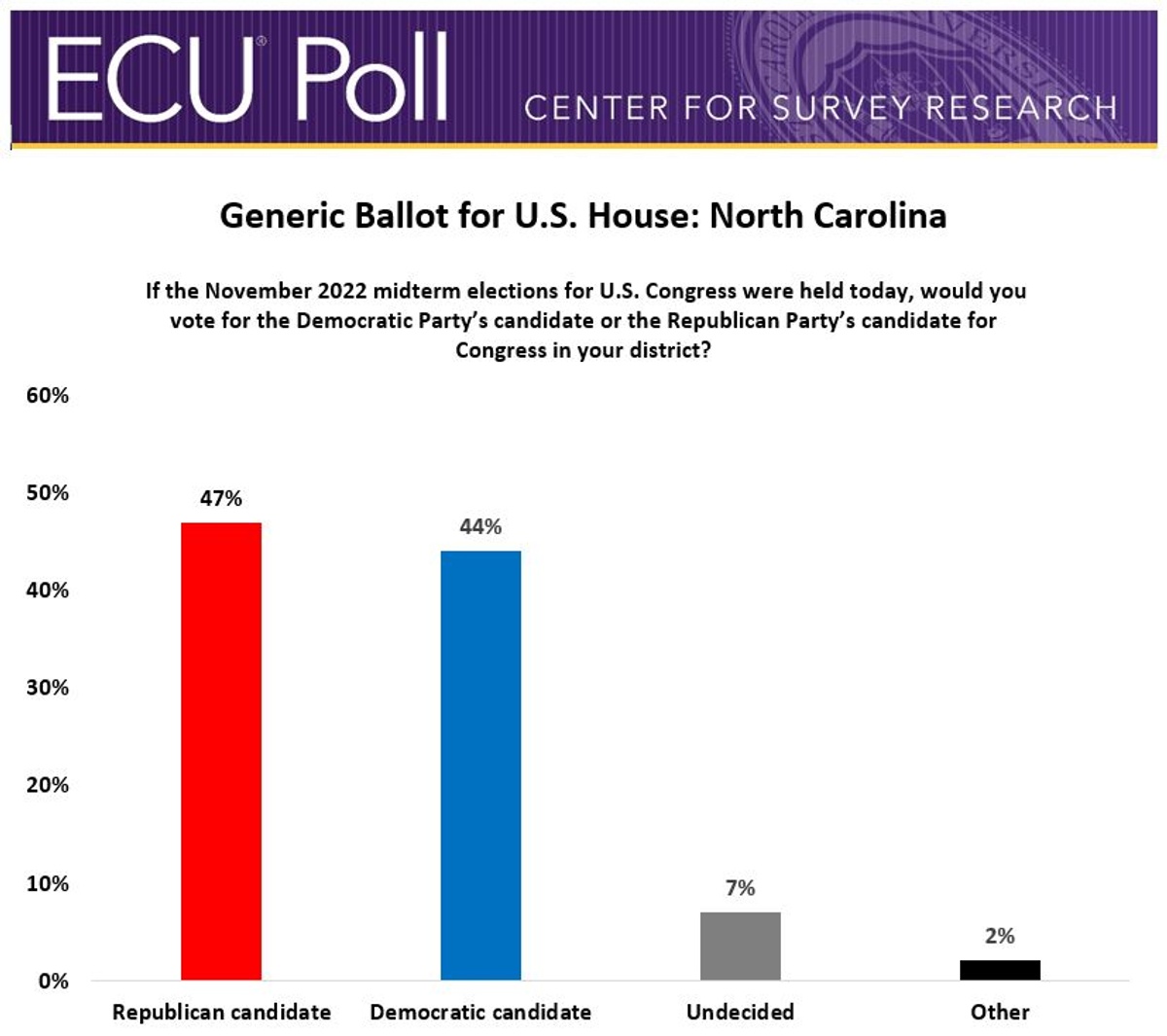 Approval for President Joe Biden's job performance stands at 35%, with 55% disapproving. Also, when asked how they would vote if the 2024 presidential election were held today, and the candidates were Joe Biden and Donald Trump, 37% say they would vote for Biden and 46% say they would vote for Trump.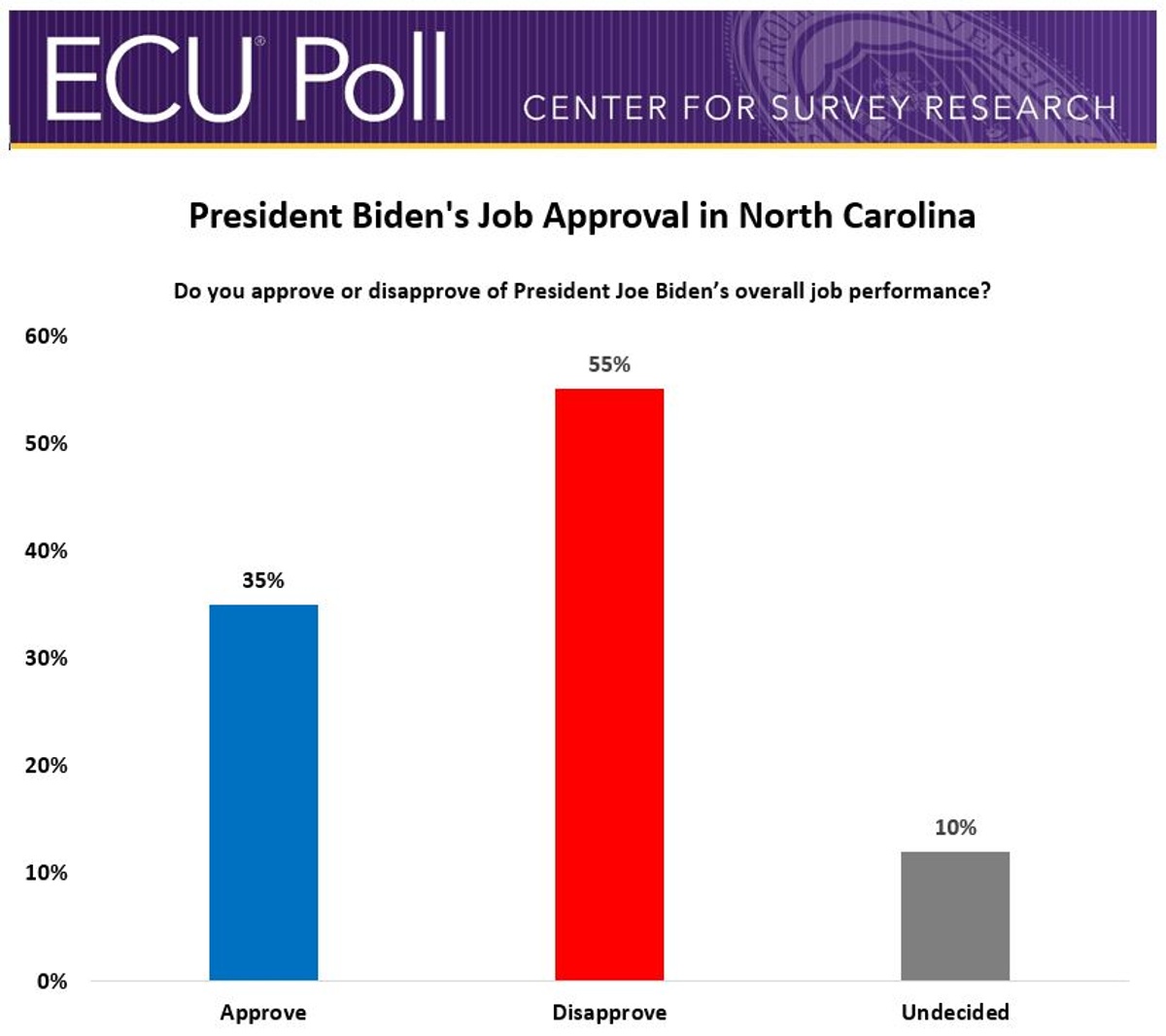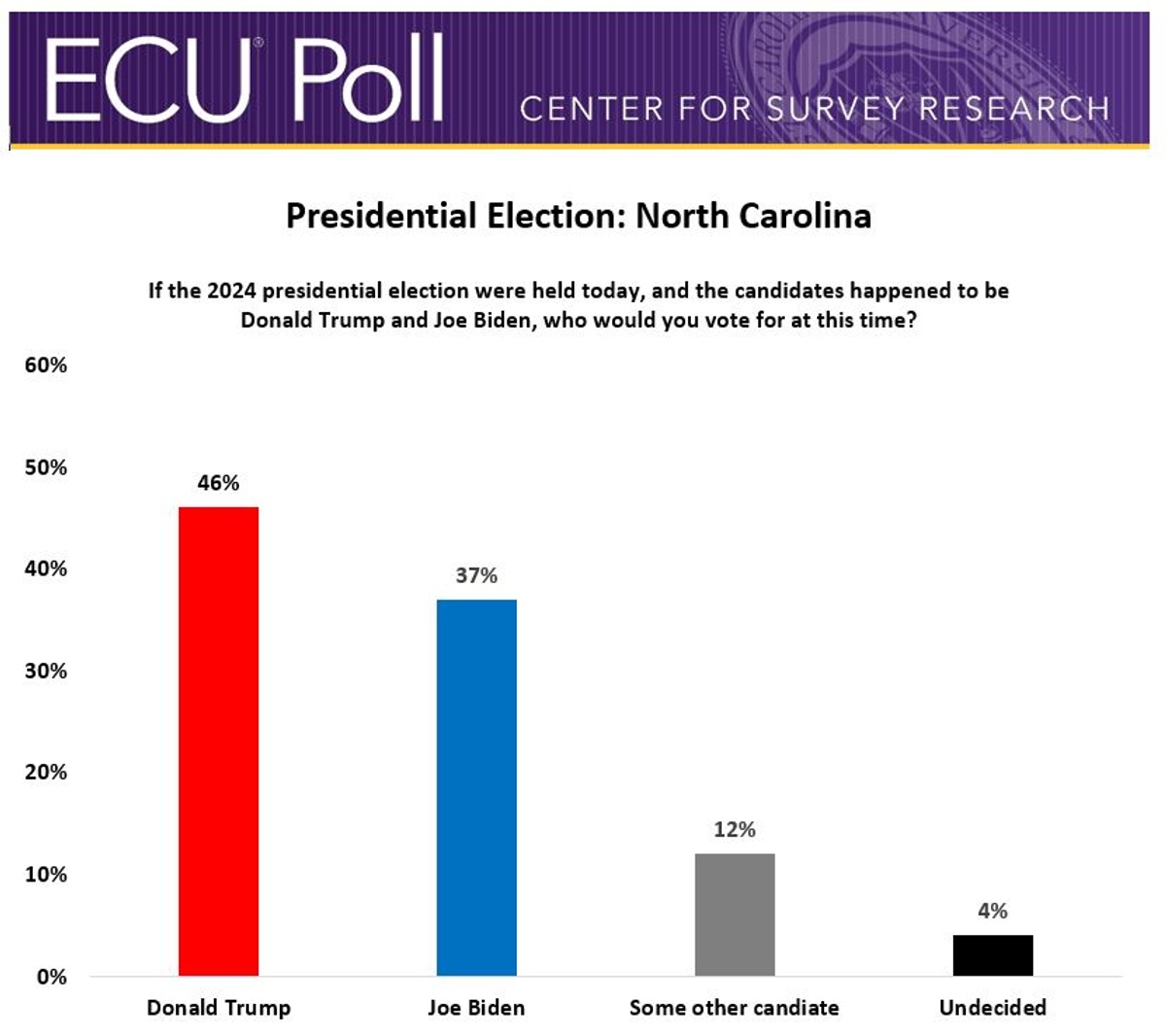 In assessing the full results of the poll, Dr. Peter Francia, Director of the ECU Center for Survey Research, remarked, "President Joe Biden's current job approval rating of 35% in North Carolina presents a major obstacle for Democrats running for office in the state. Although it is still very early, Ted Budd's current 8-point lead will be difficult for Cheri Beasley to overcome unless President Biden's numbers show marked improvement in North Carolina over the next several months."
Methodology
This poll was conducted May 19-20, 2022. The sample consisted of 635 registered voters in North Carolina, with a Credibility Interval (CI), similar to a poll's margin of error, of +/- 4.5 percentage points. The data for the poll were drawn from a cellphone sample of SMS-to-web (N=358) provided by Consensus Strategies and an online panel provided by Lucid (N=277). To ensure the sample was representative of the midterm electorate, the data were weighted by gender, age, education, race, region, and election modeling based on previous statewide elections in North Carolina.