Jerry Jones, the owner and president of the NFL's Dallas Cowboys, recently stated that legalized sports betting was inevitable in his home state of Texas.[1] Now, it appears that North Carolina may be moving in the same direction, with a bipartisan bill to legalize online sports gambling set to be considered in an NC legislative committee in the coming weeks. Governor Roy Cooper has publicly stated his support for legalized sports betting as well.[2]
A recent poll conducted by East Carolina University's Center for Survey Research found a slim majority of North Carolinians support legalized sports gambling statewide, with 54% approving and 46% disapproving. Democrats (54%) and independents (60%) approve of the initiative more than Republicans (43%). There is an age divide as well, with 70% of 18 to 44 year-olds approving of legalized sports gambling, and only 43% of those over the age of 45 approving.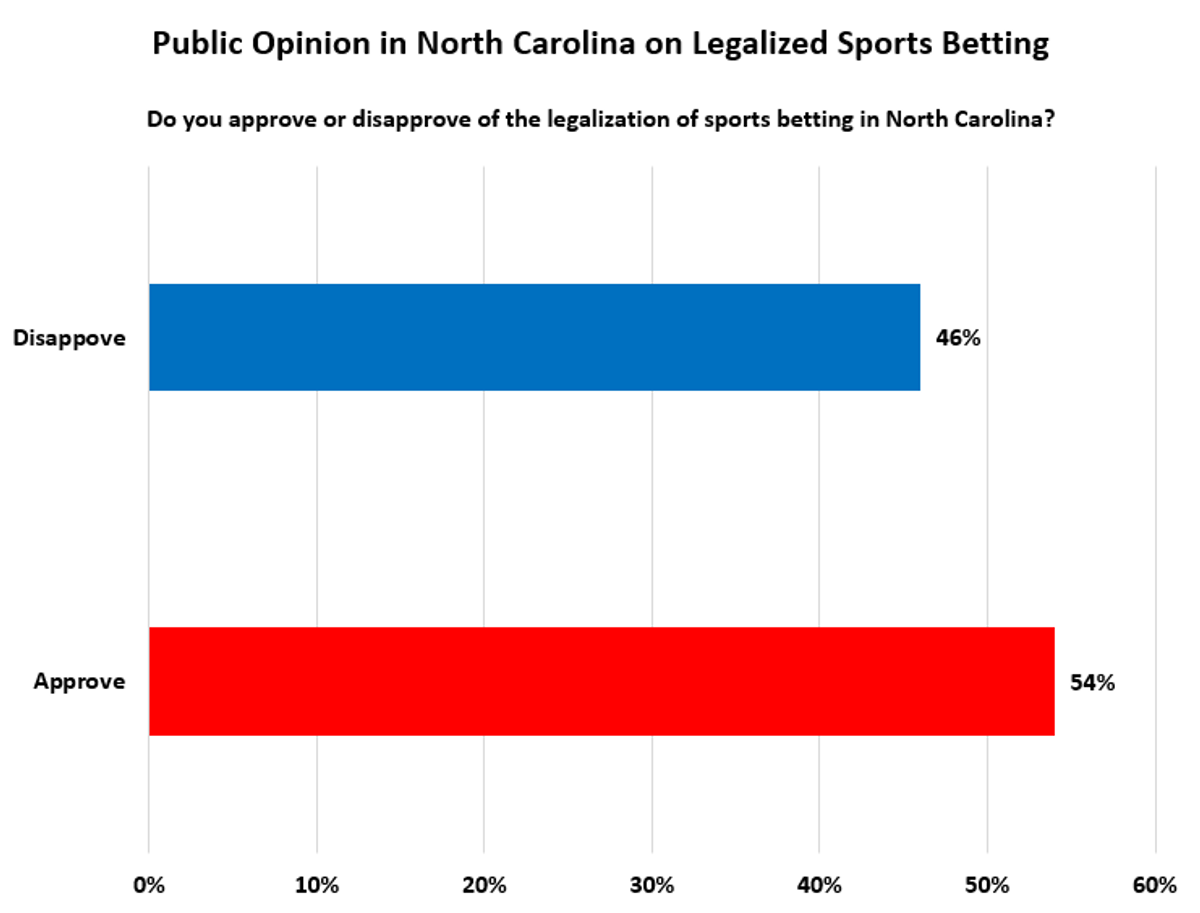 The poll also found that North Carolina voters are not as supportive of legalized sports gambling as non-voters. Among those who reported voting in the 2020 election, 47% approve and 53% disapprove. Among non-voters, support is much higher, with 66% approving and only 34% disapproving.
Legalizing sports gambling could equate to a large amount of revenue for the State of North Carolina. Almost one-in-three of those polled (32%) said they would legally bet on sporting events such as football, baseball, basketball, and hockey if it were allowed by law. These bets would likely be in small increments, as 60% of those who would legally bet on sports say they would gamble $50 a week or less, and 29% saying $51 to $100 per week. About 7% say they would bet $101 to $250 per week, and 5% would gamble more than $250 per week.
On the question of whether legalized sports betting would be good for the North Carolina economy, respondents were somewhat split, with 39% saying it would be good for the economy, 34% saying it would be bad for the economy, and 27% saying it would have no influence on the economy. However, a strong majority of North Carolinians would prefer taxing sports betting revenue to pay for the costs of education and health care in the state (80%), as opposed to raising property taxes to pay for education and health care (20%).
There are concerns about the addictive nature of gambling if sports betting were to be legalized. Almost three out of four of those polled reported they were either extremely concerned or somewhat concerned that legalized sports betting would lead to higher rates of gambling addiction in North Carolina (37% extremely concerned, and 37% somewhat concerned). A smaller percentage (26%) said they were not at all concerned.
According to the Director of the ECU Center for Survey Research, Peter Francia, "These results suggest that legalized sports betting has public support from the overall adult population in North Carolina. However, it is also worth noting those who voted in the last election were more likely to disapprove than to approve of legalized sports gambling, which complicates the political considerations for North Carolina legislators. That said, if voters had to choose between raising property taxes or taxing sports betting revenue, the North Carolina public is overwhelmingly in agreement that their preference would be to tax sports betting revenue over increases in property taxes."
Methodology
This poll was conducted July 28-August 5, 2021. The sample consisted of 762 residents of North Carolina, with a Credibility Interval (CI), similar to a poll's margin of error (MOE) of +/- 4.1 percentage points. The data were weighted by age, education, race, gender, mode, and 2020 election modeling. Data were collected using both an Interactive Voice Response (IVR) system of landlines only (n=459) and an online panel provided by Lucid (n=303).
Notes:
[1] Dallas Morning News, July 26, 2021. Available at https://www.dallasnews.com/sports/cowboys/2021/07/26/cowboys-owner-jerry-jones-on-how-he-sees-sports-betting-becoming-common-in-texas-enhancing-nfl-game/
[2] WRAL.com, August 3, 2021. Available at https://www.wral.com/nc-sports-gambling-bill-on-the-move/19808100/